Order: Primates
Family: Cebidae

20/10/2010; Mãe-da-lua reserve, Itapajé, Ceará, Brazil. 24 mm f2.8 lens.
Figure 1. This location is close to a spring in the hills of Mãe-da-lua reserve. The spring is known among the locals as "Olho dágua das gameleiras". I have a hide here, and watch the animals that visit the spring to drink. Also, I regularly scatter crushed corn in this area, primarily to attract the White-browed Guans. The guans come indeed, but so do the Brown Capuchins.
On the photo, there are about 20 monkeys. The entire Cebus apella population in the "Serra das Vertentes" is larger, maybe 40-60 animals. They move together, or split up in smaller groups. When they come to the spring, like here, they stay about an hour or two, eat all the corn they can find, drink water, rest, and then move on. Most birds fear the monkeys, and disappear when these arrive.
To top of page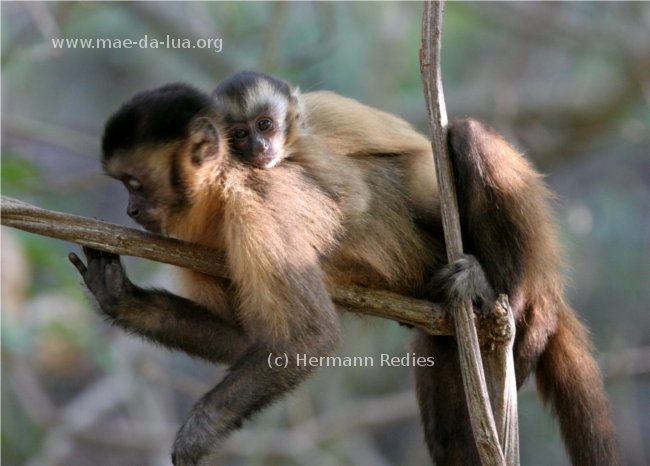 20/07/2010; Mãe-da-lua reserve, Itapajé, Ceará, Brazil. 300 mm f2.8 lens.
Figure 2. The Brown Capuchin is close to extinction in Ceará. However, the species is not listed as threatened, probably because of its huge range (most of South America, see Eisenberg and Redford 1999), and because it is more common in other regions.
Our Cebus apella population of maybe 40-60 individuals seems to be thriving, and in 2010, I saw several mothers with babies (this photo). But the group is probably isolated from other still surviving populations of Brown Capuchins. I fear that in the long run, mating between close relatives could possibly compromise the health of future generations of Cebus apella in the Serra das Vertentes.
To top of page
22/08/2008; Mãe-da-lua reserve, Itapajé, Ceará, Brazil. 300 mm f2.8 lens.
Figure 3. Neighbours of the reserve told me that in the past, the Brown Capuchin monkeys in our region were hunted for food. I am not certain what the present situation is, but I would not be too surprised if some of the hunters here still eat monkeys, or shoot at them just for fun. Occasionally, a Brown Capuchin can be seen in captivity, kept as a pet.
But the monkey shown above is not in captivity. I made this photo from my hide, with the animal sitting only a few meters away from me. I have many photos like this, taken at close range. It is interesting to see how the Brown Capuchins react to the presence of a human in the hide. They realize that there is something unusual, because of the camera clicks and movements inside. Often, one or more of them approach to investigate, and they already jumped on the roof of the hide while I was inside; others came so close, on the branches of a nearby tree, that I could nearly touch them, and tried to look into the hide. Capuchin monkeys are wary and distrustful, but some of them, sometimes, just get carried away by their own curiosity.
To top of page